Ranger ist ein genialer, python-basierter File-Manager für die Konsole (GPLv3). Keybindings sind identisch zu vim anwendbar, was die Bedienung sehr angenehm und effizient macht.
Ein anderer (neben mc) Konsolen-Filemanager mit vim-Keybindings ist vifm, kann jedoch nicht viel dazu sagen.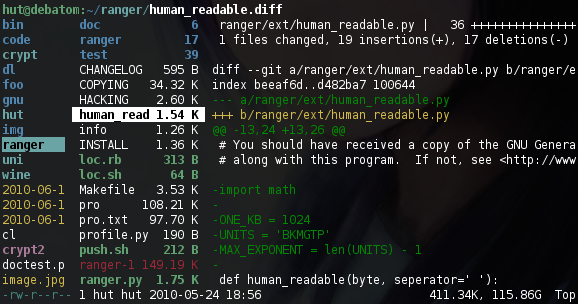 Ich setze Ranger jetzt erst seit einigen Wochen gelegentlich ein, jedoch starte ich immer öfter nur noch Ranger und lasse nautilus etc. "links liegen"… 😉
Initiale Config
Möchte man eine "Basic"-Konfiguration nach der Installation, können diese via Parameter "–copy-config=all" angelegt werden.
peter

@

peanut

:

~

$

ranger

--

copy

-

config

=

all

creating

:

/

home

/

peter

/

.

config

/

ranger

/

rifle

.

conf

creating

:

/

home

/

peter

/

.

config

/

ranger

/

commands

.

py

creating

:

/

home

/

peter

/

.

config

/

ranger

/

commands_full

.

py

creating

:

/

home

/

peter

/

.

config

/

ranger

/

rc

.

conf

creating

:

/

home

/

peter

/

.

config

/

ranger

/

scope

.

sh

>

Please

note

that

configuration

files

may

change

as

ranger

evolves

.

It

'

s

completely

up

to

you

to

keep

them

up

to

date

.

>

To

stop

ranger

from

loading

both

the

default

and

your

custom

rc

.

conf

,

please

set

the

environment

variable

RANGER_LOAD_DEFAULT_RC

to

FALSE

.
Bild-Vorschau in Ranger anzeigen
Im gnome-terminal oder terminology werden die Previews jedoch nicht schön aktualisiert (siehe auch Issue #859). Mit terminator, lxterm oder urxvt (Package rxvt-unicode-256color) beispielsweise besteht dieses Problem jedoch nicht…
Wichtigste Befehle
"yy" (kopieren), "pp" (einfügen) und "dd" (verschieben – um später irgendwo anders einzufügen wie beim Kopieren). Komplexere Funktionen werden mit ":" aufgerufen (bspw. :bulkrename – was ebenfalls ein geniales Teil ist. Siehe :help [c]ommands). Mehrere Files/Directories können mit der Leertaste markiert werden.
Eine Shell im aktuellen Verzeichnis kann mit "S" gestartet werden. Auch Tabs sind mit Ranger möglich mit "Ctrl-N". Einen Tab schliessen kann man mit – wie schon zu erwarten – ":q"
Auf Github ist eine detaillierte Dokumentation zu Ranger.
Eigene Mappings
Genial ist auch die Möglichkeit, jenste Varianten von eigenen Keybindings zu erstellen. Hier nur mal ein Beispiel, spiele hier immer noch rum…
map

mdo

shell

mv

%

%

s

~

/

Documents

#tab mit documents (wechseln zwischen tabs mit tab ;-))

map

tdo

tab_new

~

/

Documents
Schon anhand dieses kleinen Beispiels sieht man das Potential – hier kann man wirklich das ganze so gestalten, dass man sehr effizient und schnell arbeiten kann…
Mounten von USB-Sticks / -Disks
Zum mounten von Massenspeicher verwendet man udisksctl (Package udisks2).
Via lsblk checkt man die angeschlossenen Drives, dann kann man mit udisksctl mounten bzw. wieder ausmounten:
udisksctl

[

un

]

mount

-

b

/

dev

/

sdX
Ich denke, eine andere Alternative könnte auch die Verwendung von pmount sein, was ich aber nicht angeschaut hab.
Ranger als Filechooser in vim
Im Ranger-Repo gibt's ein vim-Snippet (und/oder vim-netranger), das Ranger als Filechooser einsetzbar macht. Ich glaube, das ist nur bis Version 1.7.* kompatibel. Es gibt jedoch eine andere Implementation, hab's jedoch selbst nicht angeschaut. Genrell möchte ja so wenig wie möglich an vim ändern und die integrierten Funktionen verwenden….
Ich hab's bei mir folgendermassen integriert
if

exists

(

'~/.vim/vim_file_chooser.vim'

)

source

~

/

.

vim

/

vim_file_chooser

.

vim
So gibt's keinen Fehler, sollte das File nicht vorhanden sein…
Update 17.6.2018: Alternativen ergänzt
Alternativen
Zu den bekannten Alternativen (vifm, mc,…) hat sich nun auch lf gesellt. lf ist zwar noch in einem frühen Status, schaut jedoch auch vielversprechend aus. Image Previews und viele kleinere Dinge beherrscht es aber noch nicht, deswegen ist es für mich (derzeit) noch keine Alternative zu Ranger. Aber werde es ein bisschen beobachten.